on
August 28, 2017
at
8:19 PM
           VS                 
by TommyBoy
on
August 25, 2017
at
7:33 PM
The ninth annual free residential electronic waste and tire recycling event will be 8 a.m. to 1 p.m. Saturday, Aug. 26, in the parking lot at the Navajo County Penrod facility, 251 N. Penrod Road in Show Low.
Citizens from across southern Navajo County are invited to drop off unwanted televisions and computer monitors (limit two per vehicle), computer equipment, batteries, chargers, cell phones, VCRs; CD and DVD players, printers, small appliances, fax machines, stereos, cables and cords, as well as used tires (no rims please) for free.
The City of Show Low is partnering with Navajo County, the town of Pinetop-Lakeside and Green IT Solutions of Phoenix to present this annual recycling event. This is a great opportunity to responsibly dispose of electronic items and not consume valuable space in the landfills.
Over the past eight years, the regional event in Show Low has proven to be popular, with a cumulative total of about 557,000 pounds of electronic waste collected from more than 2,700 vehicles.
For more information, call 928-532-4124 or email snorth@showlowaz.gov.
Source : Press Release
by TommyBoy
on
August 24, 2017
at
5:58 PM
Residents of Juniper Ridge RV Resort in White Mountain Lake raised more than $10,000 for Summit Healthcare's Cancer Center during their annual cancer walk and health fair.
Last year the Juniper Ridge Cancer Walk Committee raised around $9,000.
Cancer Walk committee member Ellen Bromley said around 100 walkers participated in this year's event that started at 8 a.m. Friday. The path for walkers utilized the golf course due to some construction on the road in front of the clubhouse.Walkers had the option of walking once around the course or more if they wanted.
It was all in the name of fun, raising money for the cancer center, and in the interest of good health.
Source : Press Release
by TommyBoy
on
August 22, 2017
at
10:44 PM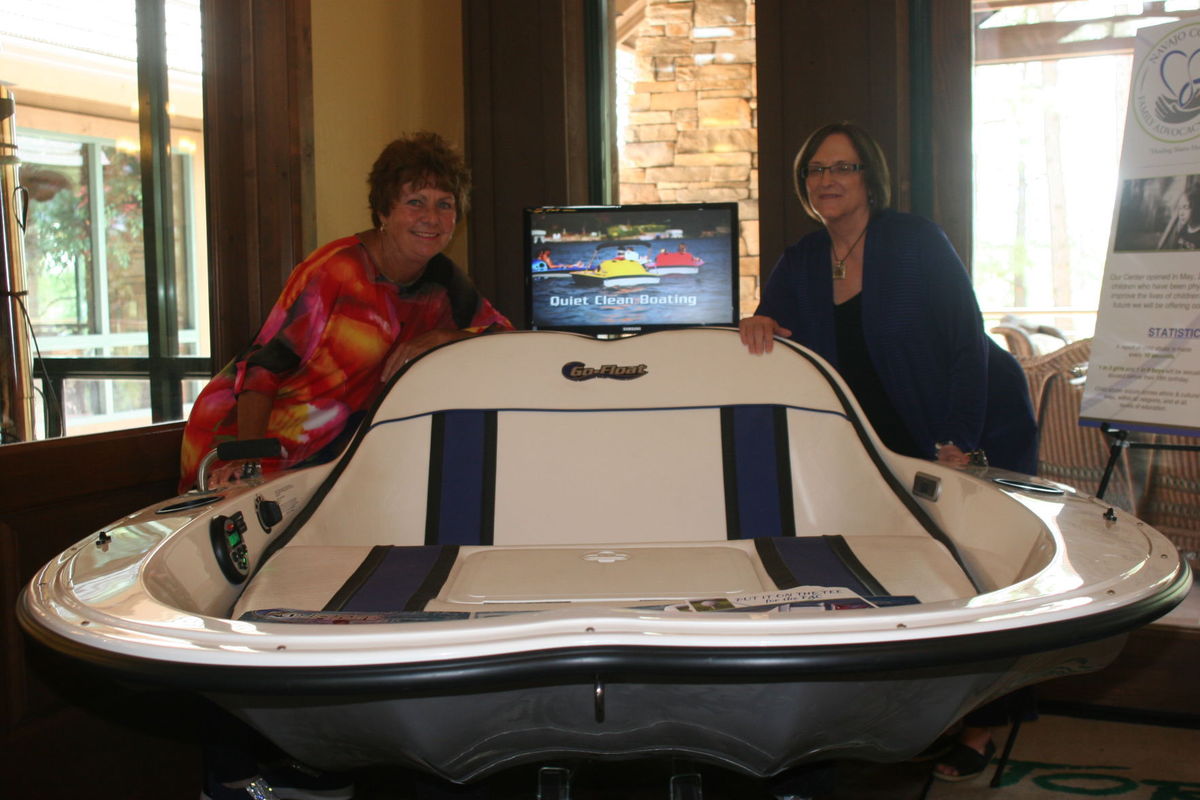 Golfers on Sept. 8 will have opportunity to support a local nonprofit organization that provides services to children who have been sexually and physically abused.
The fifth annual "Put it on the Tee for the FAC" is the Navajo County Family Advocacy Center's charity tournament and fundraiser and will be held at Torreon Golf Club in Show Low.
There is a $110 entry fee, which includes the golf tournament, a cart, dinner, prizes and raffles. There will also be some "freebie" prizes awarded during dinner.
"This tournament has grown from 88 golfers in 2013 to over 130 golfers in 2016," said Cindy Reinhold, tournament director. "We are blessed to have such great sponsorships and community support."
Something new to this year's tournament is the raffle of a Go-Float two-person electric boat. Donated by Torreon member Bob Hart, the boat is described as having a "blend of convenience, comfort and fun with an innovative style featuring top-grade upholstery and full fiberglass construction."
Raffle tickets for the boat are $20 each or eight tickets for $100 and can be purchased at the main entrance desk to Torreon Golf Club or the FAC, 902 E. Deuce of Clubs. The drawing will take place on Sept. 8 but participants do not have to be present to win. Linda G. Kingery, Development Director for the FAC, says that "all proceeds from this raffle will go directly to the Family Advocacy Center".
Source : Press Release
by TommyBoy
on
August 22, 2017
at
7:53 PM
Harry Styles is set to star in an hour-long BBC special in November hosted by his friend BBC Radio 1 DJ Nick Grimshaw. Harry Styles at the BBC will have the former One Direction singer performing songs from his self-titled debut solo album and talking about his time in 1D and as a solo star.
According to NME, the show will be recorded in Manchester on Aug. 30 and fans can click here for a chance to apply for a spot in the studio audience. "Harry is a great performer and full of so many wonderful stories about his extraordinary career, which he'll be sharing with us, I can't wait for this show!," said Grimshaw in a statement announcing the event.
Source : Billboard